Etsy api for free, Largest Database of Etsy Products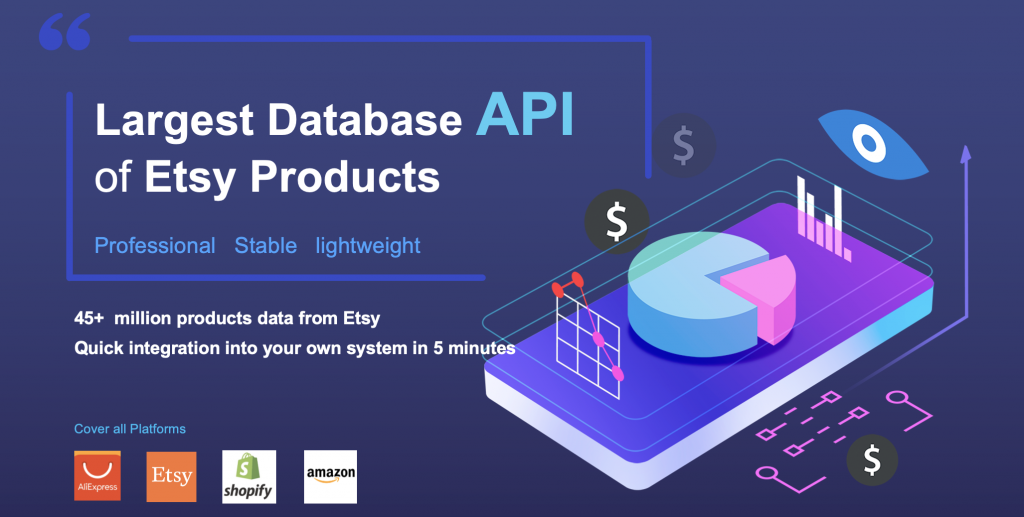 EcomScrapy-API is a professional e-commerce big data api service. Through our professional technical team, we got over 45+ million products data from Etsy, covers almost all commodities on the Etsy platform.
More importantly, our database holds historical information for these commodities, includes historical orders, reviews, sales and more. These data are not available from the Etsy official api. With the EcomScrapy-API, you can insight into commodity trends on etsy quickly, provide strong basic data support for product selection and data analysis.
10% of the price meets 90% of e-commerce data needs
As a professional e-commerce data service provider, we have been focusing on e-commerce data services for many years. We specially launched EcomScrapy-API, hoping to meet 90% of e-commerce data needs with 10% of the price, provide developers with a simple, efficient and affordable choice.
Comprehensive data : More than 250 million items on Amazon, AliExpress, Shopify, Etsy
Multidimensional filtering : More than 20 of conditional filtering
Historical data : Provide historical trend data such as transaction, inventory, price
Simple and lightweight : Quick integration into your own system in 5 minutes
Cost-effective : Meet most basic needs with 1/10 price, trial for free

Professional, Stable, Lightweight e-commerce API
EcomScrapy-API is a complete set of e-commerce big data API services that provides professional and stable multi-dimensional e-commerce product selection and analysis services for large sellers, developers, and third-party data service providers.
In addition to Etsy, we also provide data services for Amazon, AliExpress, and Shopify.
Provide detailed and customizable product selection services for big sellers
For sellers with technical capabilities, if you need a highly customized product selection service for your business, or you need to perform data analysis on a large number of products yourself, EcomScrapy can fully meet the needs.
We provide more than 20 of conditional filtering to help you quickly and batch locate the product collection you need; At the same time, we also provide a product details API to help you get the detailed information of a product, especially important historical information such as sales and evaluations. You can customize any data you need according to your needs.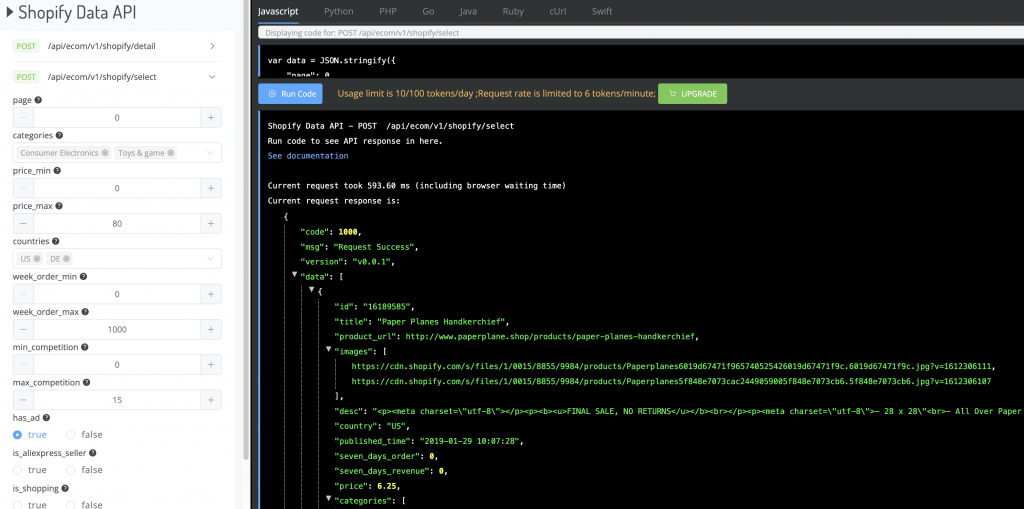 5 minutes, Integrate data into your own system
Whether you are a data service provider or a seller with your own commodity management system, You can easily integrate the data you want into your own system through our api. We have a variety of packages to meet your different API usage frequency.
We provide multiple languages ​​including Javascript, Python, PHP, Go, Java, Ruby and more. You don't need to do any extra development, it can be quickly integrated into your own system in 5 minutes.
Complete your own e-commerce application
If you are an individual developer. Through EcomScrapy-API, you can quickly build an application of your own e-commerce selection and analysis. You do not need to build additional servers to do the time-consuming and laborious operations of data scraping, storage, and cleaning.We have more than 250 million product data on Amazon, AliExpress, Shopify, Etsy, it is ready for you. You just focus on your own business, generate income for you quickly at low cost.