ASIN To UPC: The Concise Introduction And Tutorial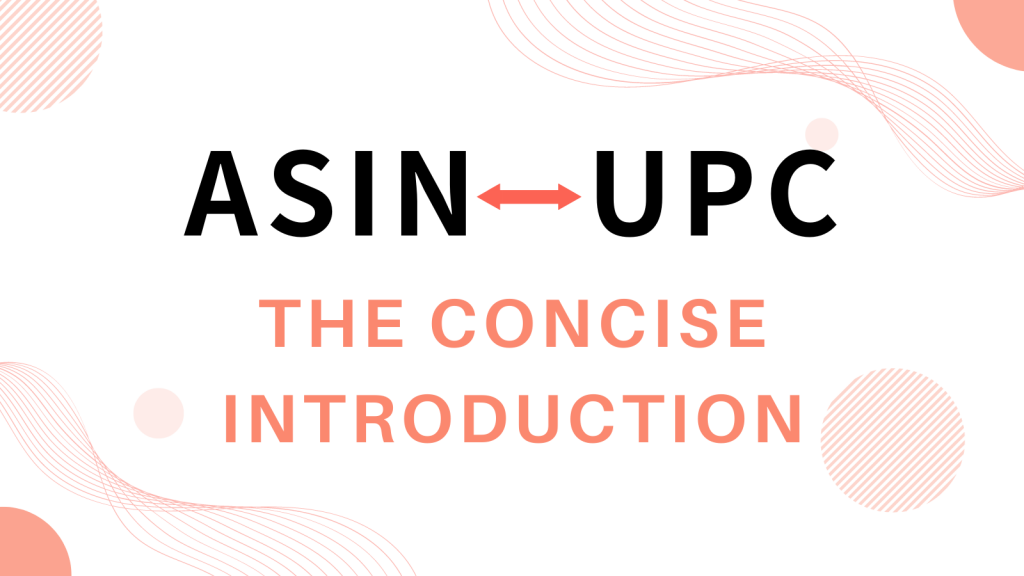 Content
---
For people who are dashing into the Amazon wholesales, the transformation from ASIN to UPC or ASIN to EAN can be confusing at the early stage. In this article, we'll illustrate what ASIN to UPC / UPC to ASIN / ASIN to EAN means and how to convert them.
We'll keep it concise and clear.
---
Explanation of Terms
---
First of all, let's get clear about what exactly GTIN, ASIN, UPC, and EAN are.
GS1: Global Standards 1. It's an international organization that makes definitions.
GTIN: Global Trade Item Number. It's a universally used GS1 identification number that is used for all trade items.
ASIN: Amazon Standard Identification Number. It's an assigned number used by Amazon to recognize and track items.
SKU: Stock Keeping Unit. It's a seller-specific number used internally to help identify and track inventory.
UPC: Universal Product Code (GTIN-12). It's a 12-digit barcode encoded from GTIN, only used in the US and Canada.
EAN: European Article Code (GTIN-13). It's an 8-digit or 13-digit barcode encoded from GTIN, used outside the US and Canada.
ISBN: International Standard Book Number. It's a 10-digit or 13-digit barcode encoded from GTIN and identifies uniquely a book.
GTINs are product ids that are used for identifying items, if a product has several sizes and colors, each of the versions has a unique GTIN. UPC, EAN, and ISBN are all GTINs. We can always find a GTIN above or below the barcode on a package or product shipping container.
Note that GTIN differentiates from ASIN or SKU. While GTIN is a registered universally used product id across international trades, ASIN & SKU are Amazon-specific terms used internally. Only GTIN is universal and most often used to list products on Amazon.
---
Why Should We Convert An ASIN to UPC / EAN?
---
There are 2 most often scenes where people initiate the need for converting an ASIN to UPC or to EAN:
Online arbitrage (OA)
Hijack (Sell Yours on Amazon)
1. Online arbitrage (OA)
Online arbitrage, as well as retail arbitrage, is the conduct of earning from the price difference.
You buy a product at place A at a lower price, then resell it at place B at a higher price, that's called arbitrage. When you move this pattern online, it evolves into online arbitrage. Finding place A is the core of online arbitrage, and that's exactly when we need to make the converts.
On Amazon, a GTIN of an item is provided by the brand owner or the brand authorized seller who first listed it, so if you find some products that are sold by others and you want to also sell them on Amazon or other platforms, converting ASINs to UPCs or ASINs to EANs or conversely is a necessary step to find out from which websites you can buy the same products.
2. Hijack (Sell Yours on Amazon)
"Sell Yours on Amazon" is a unique feature on Amazon. It means under the premise of non-infringement, seller A can sell the exact same product as a listing under the same listing page of seller B.
Amazon listing hijacking is a variant of the above case. If seller A sells a counterfeit version of seller B's item, normally at a lower price and poorer quality, that listing of seller B is being hijacked. And once the knock-off item (sold by seller A) fails, the negative review will show up on the listing of seller B.
Whether you are seller A or sell B, once you are in it, searching by GTIN or product id is the shortest way to measure an existing product that is already sold on Amazon or other platforms.
---
How to Convert An ASIN to UPC or EAN?
---
The premise of searching for GTINs is to target an item first - the item will be used to make online arbitrage or stage the listing. EcomScrapy is a perfect tool for targeting THAT item!
As an API collection for product discovery, EcomScrapy provides 100 free requests for new users with access to its huge database covering over 250 million products from Amazon, AliExpress, Shopify, and Etsy.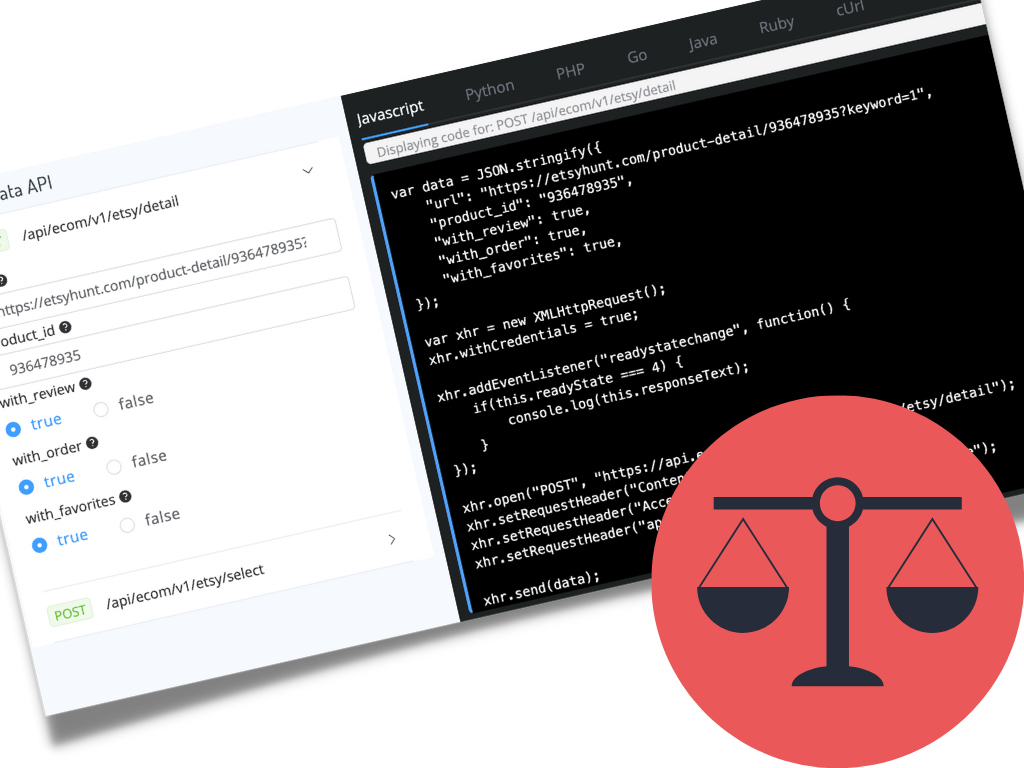 After you acquire a list of ASINs via EcomScrapy Amazon API, converting them for queries is the next step when in the aforementioned scenes.
Here are several approaches to converting an ASIN to UPC or to EAN.
Approach 1: Amazon's official lookup function
An Amazon seller central account is required. This method is very simple: you log in to Amazon seller central and look up an ASIN by Add a Product to the Inventory, a listing will be back along with the UPC code.
Approach 2: Third-party bulk lookup tool or ASIN to UPC converter
Nowadays, plenty of converters or open APIs are free to use. Here're 3 of them:
1. upcitemdb
This is a free-to-use UPC lookup tool with available API, when presenting the UPC details, it gives a list of platforms/websites on which this product is sold.

2. ASINScope
ASINScope provides mutual converters between ASIN and UPC, ASIN and EAN, ASIN and MPN, ASIN and ISBN. Its API is available with a monthly subscription and the access to API has per-day and per-minute limits.
Two subscription plans differentiate by the limits: Basic - $25/mon, Pro - $100/mon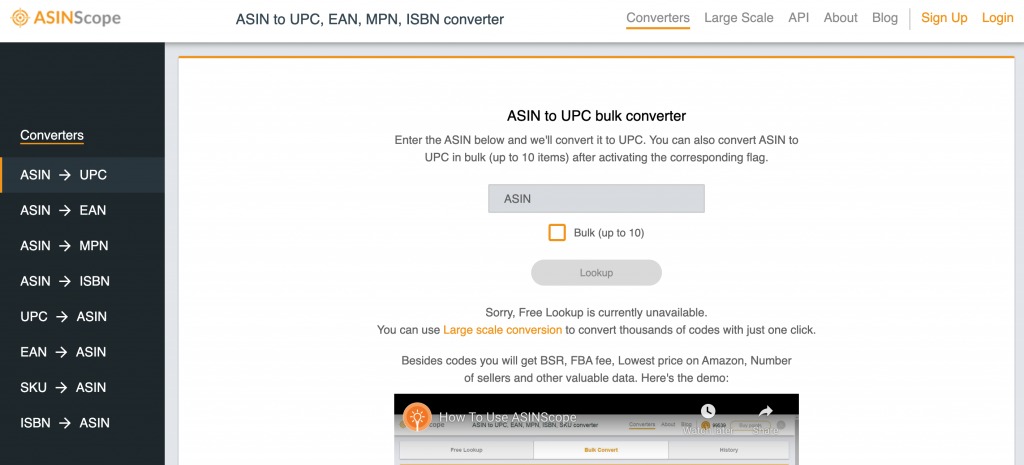 3. synccentric
It's suitable for small-scale searches 'coz when it comes to API access, the fee starts from $39.95.